El Monte Plumbing
Exceptional Plumbing Services Since 1946
Finding a plumber you can actually trust shouldn't be so difficult. Here at Merry San Marino Plumbing, we make it easy. Since opening our doors 75+ years ago, we have been proud to offer the most reliable plumbing services for home and business owners. When you turn to our skilled plumbers, you can rest easy knowing we always get the job done right the first time.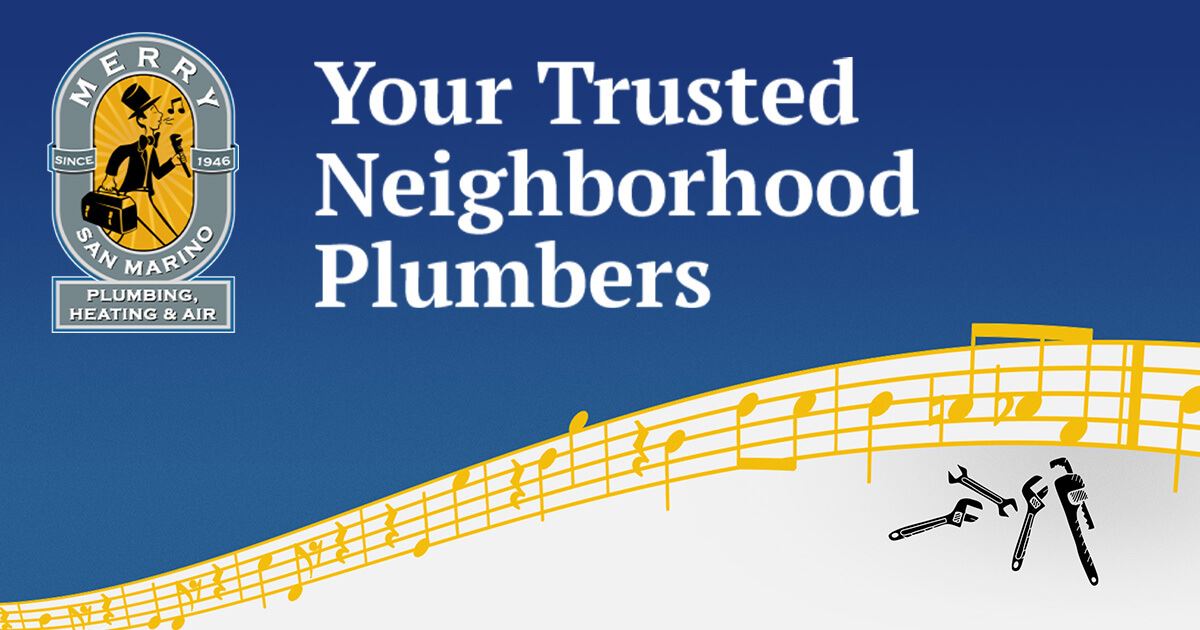 ​​Our El Monte Plumbing Services Include:​
---
​Water purification
Leak detection
Water heaters
Sewer lines
Gas lines
Backflow testing and prevention
Pipe repairs
Vintage home plumbing
Commercial plumbing
Why settle for just any plumbing company when you can have the best? No plumbing problem is either too big or too small for us to handle. Take a look at our customer reviews and see why we are the most trusted plumbing team in all of El Monte, CA!
Call (626) 414-5583 to schedule an El Monte plumbing service with our team today.
Common Commercial Plumbing Problems
Commercial plumbing systems undergo a lot of stress each day, which makes them susceptible to problems. At Merry San Marino Plumbing, we understand the importance of a smooth-running business. When plumbing problems crop up, they can have a devastating effect, especially if you have to pause business operations.
We Can Handle All Common Commercial Plumbing Problems, Including:
---
Clogged drains
Overflowing toilets
Leaking faucets
Running toilets
Broken toilet handles
Sewer odors
Low water pressure
No hot water
If you are experiencing plumbing issues, don't worry. Our El Monte plumbing experts are fully trained and qualified to handle commercial plumbing systems. We have the high-quality tools and technologies necessary to quickly get to the bottom of the problem and provide an expert repair.
Signs You Need to Call a Plumber
From showering to washing the dishes to running the washer to using the toilet, your family relies on your plumbing system each and every day. That means when something is wrong with your system, your entire day can be brought to a screeching halt. The moment you notice your system is acting up, bring in a plumber. Ignoring even the smallest of issues can quickly lead to a plumbing emergency.
You Should Call Our El Monte Plumbers If You Notice:
---
Weird sounds: If you hear water running when no appliances are in use, it is likely that you've got a serious leak. If you hear gurgling or bubbling sounds in your drains, you've got a sewer line problem.
High water bills: If there was an unexpected spike in your water bill, there might be a hidden plumbing leak in your home.
Bad smells: If your drains, yard, or home develop a sewage smell, something is definitely wrong with your plumbing system such as a sewer line clog or an overflowing septic tank.
Frequent clogs: If your drains or toilet are consistently clogged, you might have a serious clog within your sewer line.
Water damage: If you discover signs of water damage (such as water stains on walls or ceilings, mold growth, or a musty odor), but you aren't sure of the cause, you might have a hidden leak in your pipes.
No matter the problem, Merry San Marino Plumbing has a solution.
Water Heater Repair in El Monte
Do you keep running out of hot water? Is your water heater leaking? No matter how big or small your water heater problem is, our team of expert plumbers has the tools and experience necessary to get your water heater back up and running at optimal levels in no time! Are you not sure whether you need professional water heater services? There are a couple of signs that you can look out for.
Signs you need water heater repair services include the following:
There is a reduction in your hot water pressure
Your water heater is leaking
You have no hot water
Your water is rusty in color
Your water is cloudy or has an unpleasant smell
Your water heater is making strange sounds
It's been over a year since you last got your water heater checked
You keep running out of hot water
Types of water heaters we can install or repair:
Conventional Storage Tank Water Heater
Tankless Water Heater
Heat Pump Water Heater
Solar Powered Water Heater
Condensing Water Heater
Why Choose Merry San Marino Plumbing in El Monte?
Backed by 75+ years of service experience, you can trust that Merry San Marino Plumbing knows a thing or two about plumbing. Because we are so committed to exceeding your expectations while meeting your every plumbing need, we only hire the most hardworking and skilled plumbers in El Monte and the surrounding areas. As a team, we work hard to ensure your plumbing system runs smoothly so you can focus on more important matters.
With Merry San Marino Plumbing On Your Side, You Can Expect:
---
Courteous and professional plumbers
Quality plumbing solutions
A job done right the first time, every time
Suggested Reading:
Call (626) 414-5583 or message us online to schedule a plumbing service in El Monte, CA.