Los Angeles Plumbers
Family Owned and Operated
Plumbing Company in Los Angeles, CA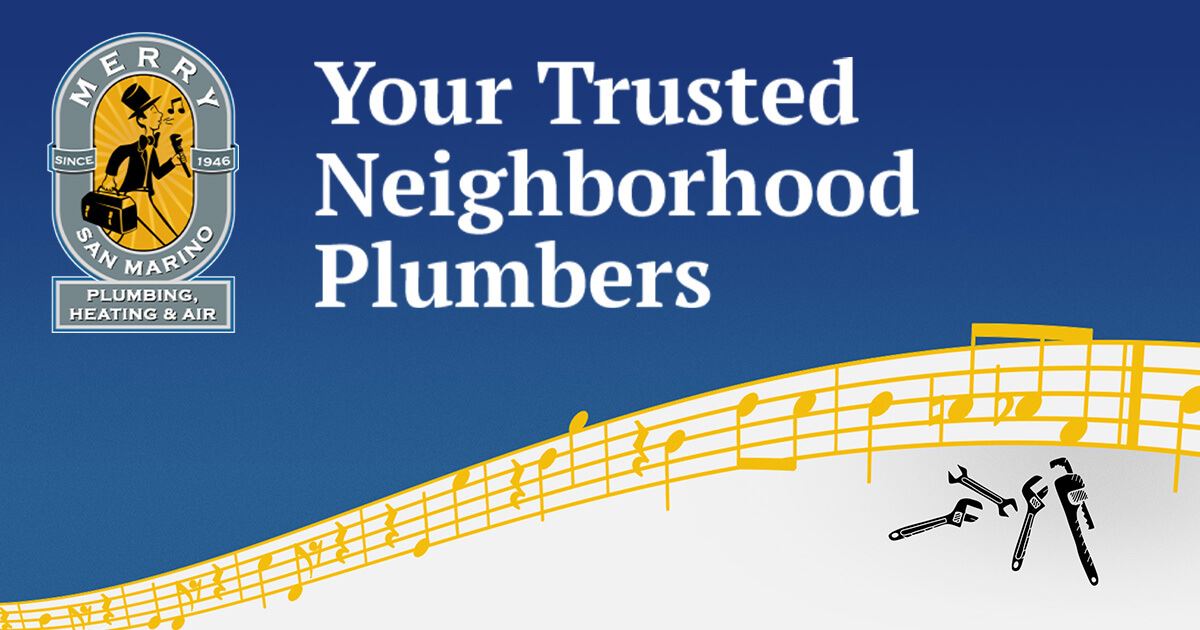 Is there anything more important than keeping your family comfortable? We don't think so either! At Merry San Marino Plumbing, we are in the business of taking care of your plumbing system so you and your loved ones can enjoy a smooth-running home. We understand that plumbing problems of any size or severity can seriously impact your home and leave your family feeling uncomfortable, which is why we are committed to being one of the top plumbing companies in Los Angeles.
Cutting corners and settling for work that is just "good enough" are two things you will never catch our Los Angeles plumbers doing. Using advanced tools and technology, we always get the job done right the first time. Whether you are looking for plumbing services to repair your water heater, or need help with a clogged drain, we got you covered. No plumbing problem is either too big or too small for our team of licensed plumbers to handle! Take a look at what our customers have to say about us and see why we are amongst the most trusted plumbing companies in Los Angeles!
Call Merry Plumbing at (626) 414-5583 or contact us online to schedule an appointment with one of our Los Angeles plumbers today!
Signs You Need a Plumber
If your plumbing system is on the fritz, it is important that you bring in a plumber right away. Even ignoring problems that appear to be very minor can lead to a serious plumbing disaster and costly repairs down the road.
Call Our Plumber in Los Angeles If You Notice Any of the Following:
---
Your water bill is through the roof for no reason
You can hear water running even when no appliances are in use
Your water heater is sweating
Your toilet is frequently clogged or overflowing
There are extra-green patches of lawn in your yard
There is a sudden increase in pest activity in or around your home
Your water pressure is low
You have no hot water
There are bits of rust in your water
You discover signs of water damage such as mold growth or drooping ceilings
No matter how big or small the problem at hand, we have a solution. Simply give us a call and we will handle the rest!
What Causes Clogged Drains?
Clogged drains are easily the most common plumbing problem. What many people don't realize is that many clogged drains are almost entirely avoidable. By becoming aware of the most common sources of clogged drains, you can avoid clogged drains, burst pipes, sewage backflow, and more.
Some of the Most Common Sources of Clogged Drains Include:
---
Grease and oil
Soap scum
Hair
Bones
Paper towels
Fruit pits
Feminine hygiene products
Cotton balls
Q-tips
Eggshells
Coffee grounds
Tree roots
Mineral buildup
Toilet paper
Flushable wipes
Dirt, leaves, and debris
Diapers
Cat litter
While certain things, such as tree root intrusion, cannot be prevented, others can. Being careful about what you place in your garbage disposal, flush down the toilet, and pour down the sink can prevent major plumbing disasters and extend the overall lifespan of your system.
Do I Need Drain Cleaning?
Drain cleaning is one of the most important (yet overlooked) plumbing maintenance tasks. When done every six months, drain cleaning can reduce your chances of experiencing plumbing repairs, extend the lifespan of your pipes, increase your plumbing system's efficiency, lower your water bills, and more.
Signs You Need Drain Cleaning Include:
---
Your drains stink
Your toilet is always clogged or overflowing
You can hear water gurgling in your drains
Water comes up your sink or shower drains when you flush the toilet
One or more of your drains are slow or clogged
If your drains are showing signs that they are struggling, give Merry San Marino Plumbing a call. Our Los Angeles plumbing experts offer professional, reliable drain cleaning and hydrojetting services guaranteed to help your pipes flow freely.
Water Heater Repair in Los Angeles
Is your water heater leaking? Do you keep running out of hot water? Our water heater experts are here to help no matter what water heater problem you may be faced with.
Our water heater services include the following:
Water Heater Repair
Water Heater Installation
Water Heater Replacement
Water Heater Maintenance
Are you unsure whether you can take care of something with a quick DIY fix or need professional services? There are some signs that you can look out for that will help you determine whether you are better off consulting an expert.
Signs your water heater needs to be repaired:
Your water heater is leaking
You have no hot water
You run out of hot water quickly
Your water heater is making strange noises
Your utility bill has increased
Your water temperature keeps fluctuating
Your water heater takes longer to heat your water than it should
Your water is cloudy-looking, or rusty-looking (brown or yellow tint)
You have reduced hot water pressure
It's been over a year since you last got your water heater checked
If you notice any of the signs above, we encourage you to contact a water heater professional as soon as possible. Leaving a water heater problem unnoticed can lead to costly damages and replacements that may be avoided with timely service. Our water heater pros here at Merry Plumbing have the tools and experience needed to get your water heater back up and running in no time! Contact us today for water heater repair that you can count on.
Types of water heaters we can service:
Conventional storage-tank water heaters
Tankless water heaters
Heat pump water heaters
Solar-powered water heaters
Condensing water heaters
75+ Years of Dependable Plumbing Services
For over 75 years, we have been the go-to plumbing company in Los Angeles and the surrounding areas. Residents and business owners alike turn to our team time and time again because we truly care about our work. From minor repairs to routine inspections to major replacements, you can count on us to complete your every plumbing service with the utmost care and attention to detail.
Our Los Angeles Plumbing Services Include:
---
Water purification
Drain cleaning
Leak detection
Water heater repair
Water heater installation
Sewer lines
Gas lines
Backflow testing and prevention
Pipe repairs
Vintage home plumbing systems
Commercial plumbing service
Suggested Reading:
Call Merry Plumbing (626) 414-5583 or contact us online to schedule your plumbing services in Los Angeles, CA. We look forward to serving you!