Pasadena Plumbers
Plumber in Pasadena, CA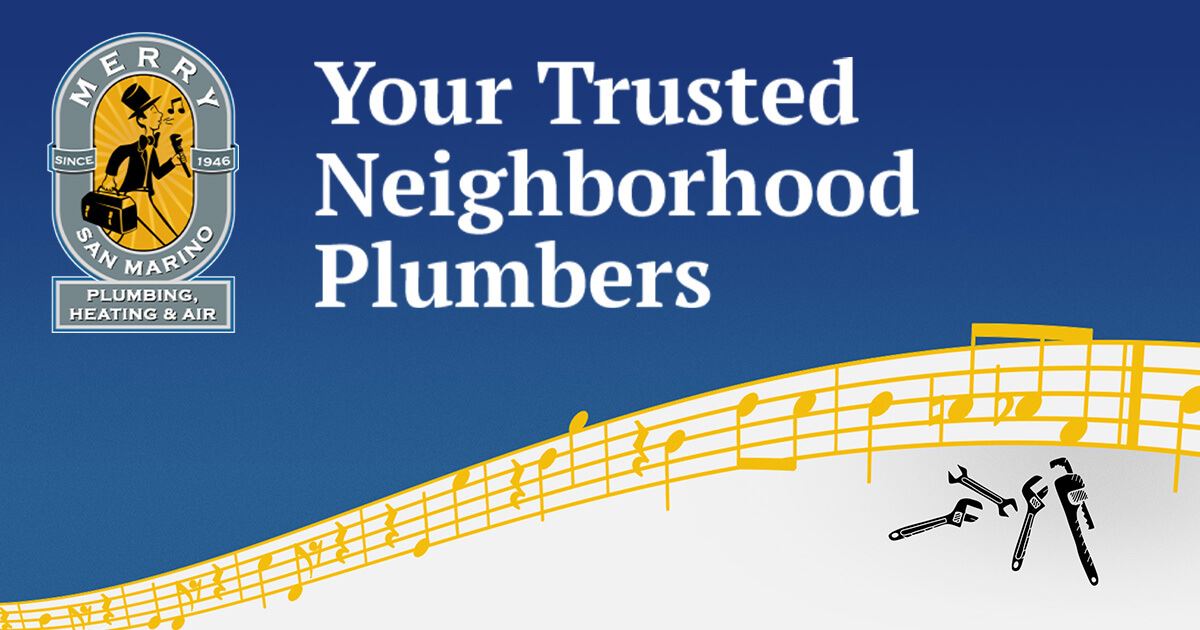 At Merry San Marino Plumbing, we are driven to provide our customers with the right solution for all of their residential plumbing needs. In addition to providing our customers with a wide range of options and recommendations, we treat our customers with respect. Having served neighborhoods in the San Gabriel Valley for more than 70 years, we know that good customer service leads to life-long customers, That is our goal: to open a relationship that makes us your plumbing company of choice for generations to come.
When you need a plumber, you probably need one as quickly as possible. Having clogged pipes can cause all kinds of problems for homeowners, and you shouldn't have to live with these issues any longer than necessary. If you require residential plumbing services in Pasadena, Merry San Marino Plumbing is the place to call for fast, experienced, and skilled service. We will respond promptly and get your issue fixed, no matter how complex it might be!
Contact our Pasadena plumbing pros at (626) 414-5583 to schedule your next service!
Our Plumbing Services in Pasadena, CA
When you call Merry San Marino Plumbing, you will speak with a live operator who will know what questions to ask about your situation. Our team of experienced Pasadena plumbers will help you determine what the problem is and get you the service that you need as soon as possible. It doesn't matter what time of the day or night it is, or what day of the week, we are available to help you.
Our Comprehensive Plumbing Services in Pasadena, Include:
---
Toilet and shower repairs
Faucet repairs and maintenance
Kitchen and bath remodeling
Benefits of Hiring a Professional Plumber
Hiring a professional plumber is important for ensuring that your plumbing systems are working properly and for preventing further damage.
These benefits include the following:
Enhanced water quality
Improved water pressure
Reduced water bills
Improved air quality
Prevent costly repairs and replacements that can be avoided
If you notice any problems with your home's plumbing systems, it's important to contact a professional as soon as possible to get the situation inspected and properly taken care of. Leaving a plumbing problem unnoticed or trying to fix it yourself can lead to further damage and costly replacements that can be avoided. Take a look at what our clients have to say and see why we are Pasadena's most trusted plumbing company!
Pasadena Plumbing Repair
Are you looking for professional plumbing repairs in Pasadena, CA? Our plumbing experts have years of combined experience, and will go above and beyond to ensure that all of your plumbing is back up and running in no time, and is working at optimal levels.
Signs you need plumbing repairs include:
You have no water pressure
Your sinks are slow to drain
You keep having problems with water back-flow
You have no water
There is no hot water (even after turning on your water heater)
Water is gurgling up your toilets, showers, or tubs
You have burst pipes
Your toilet is running
Your basement has a leak
If you notice any of these problems in your home, it's best to contact a plumbing expert. Our plumbers can conduct a plumbing inspection and advise you on the best plumbing solution for you and your family.
Don't Wait to Schedule Plumbing Service – Call Us Today!
If you need residential plumbing services in Pasadena, Los Angeles, El Monte, Altadena, or beyond, look no further than Merry San Marino Plumbing. Our services are quick, honest, and, most importantly, reliable. We are fully licensed and insured and are members in good standing with the Chamber of Commerce.
Top Reasons You Can Depend on Our Plumbing Company Include:
---
We start all residential plumbing services with an expert quote
We have served the San Gabriel Valley since 1946
We only use top-of-the-line plumbing and drain equipment
Our plumbing technicians are fully licensed and insured
What else sets Merry San Marino Plumbing apart from the rest? Having served the local community for more than 70 years, we also understand the importance of high-quality solutions and dependable customer service. We want you to be confident that your home will be in good hands when you turn to us. That's why each of our technicians has completed a five-year apprenticeship program. This ensures that the plumber who handles your project has the right training, knowledge, and skills to get the job done right.
Suggested Reading:
Schedule your Pasadena plumbing service or repair today by giving us a call at (626) 414-5583 or fill out a quick form online.

4 Benefits of Choosing Merry San Marino Plumbing
Experienced, Skilled & Dependable Team

Honest Pricing with No Hidden Fees

Courteous & Professional Plumbers

70+ Years of Industry Experience