San Gabriel Plumbing Services
Professional Plumber in San Gabriel, CA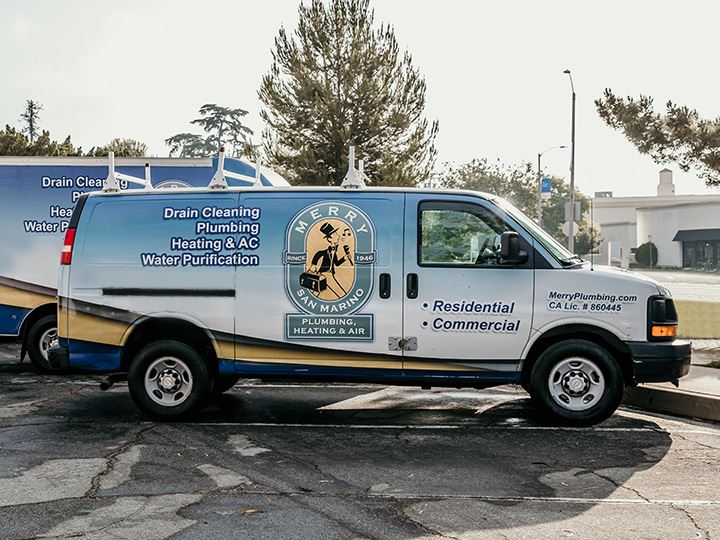 When it comes to helping your home or business run smoothly, no one does it quite like Merry San Marino Plumbing. Our skilled plumbers are prepared to handle any plumbing service, no matter how large or small. Equipped with the highest quality tools and technologies, we are able to get to the bottom of any plumbing problem and implement the best solution in no time.
Our San Gabriel Plumbing Services Include:
---
Water purification
Leak detection and repair
Gas lines
Water heaters
Sewer lines
Backflow testing and prevention
Pipe repairs
Vintage home plumbing
Commercial plumbing
When you want the job done right the first time, turn to Merry San Marino Plumbing. With over 75 years of service excellence, our team of plumbers will go above and beyond to ensure that your plumbing systems are working at optimal levels. Don't believe us? See what our clients have to say!
Call (626) 414-5583 or contact us online to request a quote today for plumbing services in San Gabriel and beyond.
How to Prevent Plumbing Problems
Plumbing problems can be a huge pain, causing your entire day to come to a screeching halt. Whether at home or your business, a properly functioning plumbing system is essential. Luckily, many common plumbing problems can be prevented.
In Order to Avoid a Plumbing Disaster, You Should:
---
Take care of your drains: To prevent major drain clogs, avoid putting paper towels, grease, fat, too much toilet paper, feminine hygiene products, flushable wipes, bones, fibrous vegetables, coffee grounds, and other drain-harming items down your drains.
Repair issues early on: The key to avoiding major plumbing disasters is having minor issues repaired before they worsen and cause serious damage.
Schedule routine inspections: Having a qualified San Gabriel plumber inspect your system at least once a year is a great way to ensure it is functioning efficiently and effectively. Additionally, your plumber can identify minor issues before they cause major problems.
Schedule drain cleaning: Over time, a lot of gunk and residue build up in our drains and plumbing pipes due to extensive use. We recommend scheduling routine drain cleaning once to twice a year to blast away buildup before it has a chance to cause major blockages.
For more tips on how to avoid a plumbing disaster, please don't hesitate to reach out to Merry San Marino Plumbing. Backed by 75+ years of service experience, you can trust we know a thing or two about plumbing.
Signs You Need a Plumbing Repair
While you can't see most of your plumbing system, there are still many signs you can look out for that indicate the need to call a plumber.
Call Our San Gabriel Plumbing Team If:
---
Your drains are slow or clogged
Your toilet is always clogged or overflowing
There is an unexplained puddle of water on your lawn
Your water heater is leaking
You can hear the sound of water running when no appliances are in use
There was an unexpected spike in your water bills
You discover signs of water damage in your home and aren't sure of the cause
There are gurgling or bubbling sounds in your drains
Your garbage disposal isn't working
You have no hot water
Water backs up into your shower when you flush the toilet
Your water heater is making unusual noises
Whatever problem you may be experiencing, we can solve it. Our team has encountered and resolved every kind of plumbing problem imaginable, and we are here to get your system back up and running in no time.
San Gabriel Drain Cleaning Services
Are you looking for professional drain cleaning services in San Gabriel? Our team of experts has years of combined experience and knows exactly what to do to get your drains back up and running in no time!
Here are some signs that you can look out for:
The water drains more slowly than usual
You notice standing water in your washing machine, sink, or shower
You hear odd noises coming from your drains
There are an increased number of fruit flies inside your home
Unpleasant odors are coming from your drain
If you notice any of the signs above, we highly suggest that you contact a plumbing professional as soon as possible to get the situation inspected. Leaving a drain problem unnoticed can lead to further damage and potentially costly repairs.
Schedule Service Today!
When you need a plumber, you need one as quickly as possible. That's where Merry San Marino Plumbing comes in. Our team responds promptly and arrives at every appointment in fully stocked trucks, ready to implement a fast and effective repair.
With Our San Gabriel Plumbers on Your Side, You Can Rest Easy Knowing
---
We are backed by 75+ years of service excellence
We are equipped with state-of-the-art tools
We are fully licensed and insured
Don't settle for just any plumbing company when you can have the best.
Call (626) 414-5583 to schedule San Gabriel plumbing services with Merry San Marino Plumbing.
Related Blog Articles: